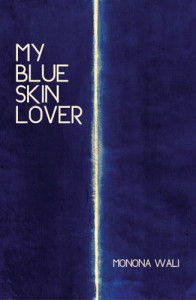 The Debut Novel from Monona Wali
SHIVA is the Hindu god of life and death, of destruction and rebirth. He is terrifying and he is benevolent. He has three eyes through which he can view the past, the present, and the future. The third eye looks inward. If he were to open it, the searing heat would scorch all of creation.
One autumn night Shiva slips into the bedroom of 32-year old Anjali Mehta, and triggers an erotic and dangerous dissembling of her marriage and her life. Anjali is a seeker in a world of material overdose, and her fantastical affair with the divine blue skin lover raises questions about her identity that force her to take control of her life and confront her deepest self. Set in New York City, My Blue Skin Lover is one woman's headlong journey into spiritual transformation.
Monona Wali is a short story writer and novelist, and an award-winning documentary filmmaker and screenwriter. Her stories have been published in The Santa Monica Review, Stone Canoe, Tiferet, Catamaran, A Journal of South Asian American Literature and other literary journals. She was born in Benares, India and immigrated to the US with her family as a young child. She lives in Los Angeles and teaches creative writing at Santa Monica College.
From Blue Jay Ink
Purchase On Line
Amazon
Barnes & Noble
Indiebound