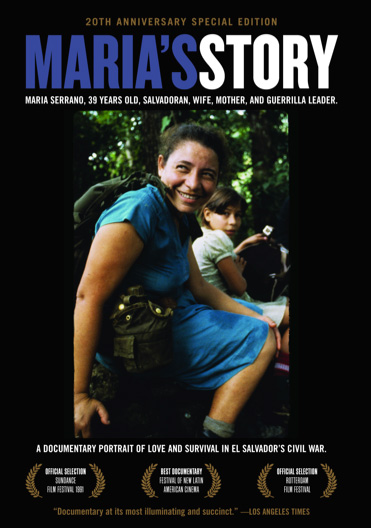 It is El Salvador, 1989, three years before the end of a brutal civil war that took 75,000 lives. Maria Serrano, wife, mother, and guerrilla leader is on the front lines of the battle for her people and her country. Skirting bullets and mortar attacks, recounting a childhood of poverty and abuse by government troops, suffering the tragic loss of her daughter to enemy fire, and spending precious moments with her husband and surviving daughters, Maria brings viewers to the heart of the fight for a more just society.
This critically acclaimed and award-winning film first aired on the PBS Documentary Series, P.O.V. in 1991. Revolutionary in its making, Maria's Story broke ground as one of the first documentaries to use small format video. Traveling with only backpacks and solar powered batteries and living on the run with the guerrillas for two months, the filmmakers were able to capture otherwise unattainable footage.  The resulting intimate portrait of Maria and her compatriots reveals a universal tale of love and survival in times of war.
Celebrating its 20th anniversary, the film is available for the first time on DVD. Included is an update of Maria Serrano and her family twenty years after the end of the civil war.
DVD contains both English and Spanish versions
For more information and to purchase: Maria's Story
Produced by Pamela Cohen and Catherine M. Ryan, Directed by Monona Wali and Pamela Cohen, Camera John Knoop, Featuring English Voiceovers by Alma Martinez and Edward James Olmos.